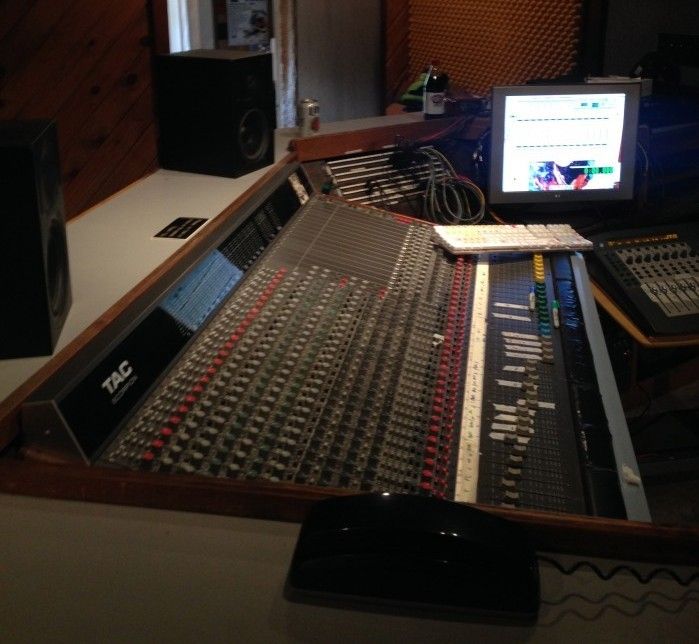 STUDIO SPECS / EQUIPMENT
Dimensions 
Control Room 325 sq. ft., Isolation Booth 235 sq. ft. with 11' peak, Studio 410 sq. ft. with 20' peak.
Console
 AMEX/TAC Scorpion 24 x 16, 42 Channels Mix-down
, Digidesign Command 8.
A/D converters 16 chs Focusrite Scarlett 18i20
Computer /Pro-Tools System   Apple Mac Pro   2.93GHz 4-Core Intel Xeon Processor Memory:16GB (4x4GB) PC8500 1066MHZ DDR3  Storage:  3.0TB 7200RPM HDD  Optical Drive:18x SuperDrive (DVD±R DL/DVD±RW/CD-RW)  Networking:Built-in Gigabit Ethernet 10/100/1000BT, Bluetooth 2.1 + Enhanced Data Rate (EDR) wireless technology
Audio Recorders
 Sony APR 2" 24 track, Panasonic SV3800 and SV3700 R-Dats, HHB CD recorder, Revox 2trk.
Signal Processing 
TCM1 Processor, TC Electronics M2000, Eventide H3000S Harmonizer, Yamaha REV 500 and REV 7, Lexicon LXP15 & PCM 60, Alesis Midiverb II, ART DR2
Other Outboard Gear 
HHB Stereo Tube Compressor, TL Audio Tube Compression and mic pre-amps, Joe Meek stereo compressor, Drawmer DL 241 and LX 20 dual compressor/expanders, PreSonus ACP88 eight channel compressor/limiter/gate, (2)DBX 160X and Ashly SC50 compressors,  Demeter Tube Bass Pre-amp, DBX 263X De-esser, BBE 822 Sonic Maximizer, ARX Compressor/limiter, ARX Gates, Demeter Tube and Countryman direct boxes.
Studio Monitors 
Genelec 1030a's, Urei 809's, Yamaha NS-10's
Musical Instruments
1966 & custom Fender Telecasters, 1990 custom Fender Strat, 1965 Rickenbacker, 1964 Gibson SJ, 1972 Martin D41, 1981 Ovation Adamas, 1945 Gibson A50 mandolin, Yamaha RBX 550 Bass, 1964 Vox AC 30 and Ampeg Super Jet, Roland RD300 88 Key Midi controller, EMU Stereo Piano Module.
Microphones 
Sony 800G Tube, Neuman TLM103, (2)Neuman KM 140's, Neuman U87, PZM Stereo SASS, (2)AKG 414's, (2)AKG C-460's and CK 63 capsules, RCA 77DX, (3)Sennheiser MD 421's, Shure SM 58, SM 7, Beta 58, (8)SM 57's, and Crown and Realistic PZM's.
Digital Mastering 
Provided by Bongo Beach Productions.